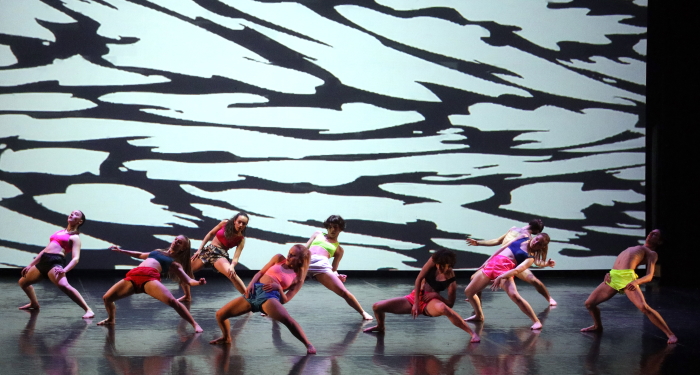 The UGD Contemporary Dance Department, led by Full-time Professor PhD Risima Risimkin, opened in September 2017 as part of the Film Academy. This program was brought to Macedonia through the Intertart Cultural Center, which in 2008 signed a Memorandum of Cooperation with the Rotterdam Dance Academy at CODARTS University in Rotterdam, the Netherlands.
The expertise was undertaken for a period of three years, from 2010 to 2013, with the support of the Embassy of the Kingdom of the Netherlands in the Republic of Macedonia. This program is unique in Macedonia and the region, after the determination to produce contemporary dancers. Students of the Dance Department at UGD have the opportunity to practice in Skopje Dance Theater, which gives them the opportunity to upgrade and perform in professional productions and guest appearances at prestigious festivals around the world.
The department is taught by prof. Dr. Risima Risimkin, Docent Professor Matea Kiselicka, Assistant Adrijana Dancevska, and Dejan Bitrovski and Anastasia Dancevska are also included in the program as demonstrators.
The program is based on a three-year first cycle study, for which students receive a degree - a graduate contemporary dancer and 180 credits. After completing the first cycle, students have the opportunity to continue the education of the second cycle of teaching, performing arts, with the possibility of a specialty in choreography or dance pedagogy, which starts from the 2020-2020 season.
The teaching, from the 2020-202 season, takes place in the premises of UGD in the Army Hall in the center of Skopje.
Students of the Department of Contemporary Dance in the past through the practice with Skopje Dance Theater took part in several productions with which they performed in the country and abroad: 2017 in China, Quangho of "Cultural Season" within the project 16 + 1 between countries in Central and Southeast Europe and China; in 2018 in The Hague, the Netherlands at the Holland Dance Festival; in New York, USA at the Battery dance Festival; in Beijing, China at the International Festival of the Beijing Dance Academy; in 2017 and 2019 in Bratislava, Slovakia at the festival of the informal network of nine European academies and dance universities "Share".
In November 2018, some of the students had a study visit to the Rotterdam Academy of Dance, within the cooperation of the Interart Cultural Center with this academy.