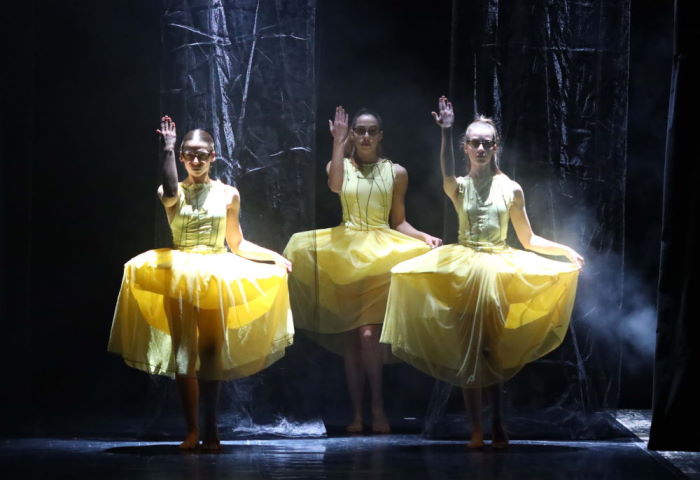 The Department of Contemporary Dance at UGD, whose founder and dean is a full-time  professor PhD, Risima Risimkin, opened in September 2017 (from 2019 it has its own space in the "Dom na ARM" in Skopje) as part of the Film Academy. This program was adopted in Macedonia through the Interart Cultural Center, which in 2008 signed a Memorandum of Understanding with the Rotterdam Dance Academy at CODARTS University in Rotterdam, the Netherlands.
The expertise was undertaken for a period of three years, from 2010 to 2013, with the support of the Embassy of the Kingdom of the Netherlands in the N. Macedonia. This program is unique in country and in the region, after the determination to produce contemporary dancers. The students of the Department of Contemporary Dance at UGD have the opportunity to practice in the Skopje Dance Theater, which gives them the opportunity to upgrade and perform in professional productions and guest appearances at prestigious festivals around the world.
Besides regular prof. PhD Risima Risimkin, in the practical performance of the teaching participate the assistant Adrijana Dancevska, as well as the professional associates Dejan Bitrovski and Anastasija Dancevska.
The program is based on a three-year first cycle of studies, in Macedonian and English, for which students receive a diploma - a graduate contemporary dancer and 180 credits. After completing the first cycle, students have the opportunity to continue their education in the second cycle of teaching, performing arts, with the possibility of finishing Master of Arts in Contemporary Dance Choreography & Master of Arts in Contemporary Dance Education (methodology and pedagogy of dance techniques).
The students of the Department of Contemporary Dance receive their internship in cooperation with the Skopje Dance Theater and have so far made guest performances in the country and abroad, as part of the program of this, unique contemporary dance company in our country: within the program of "Cultural season ", a project of the countries of Central and Southeast Europe and China (16 + 1) in Chuanzhou, China (2017); at the Holland Dance Festival in The Hague, the Netherlands, which is considered one of the most prestigius contemporary dance festivals in the world (2018); at the thirty-seventh edition of the prestigious Battery Dance Festival in New York, USA (2018); at the Beijing Academy Dance Festival, in Beijing, China (2018); at the National Theater of Contemporary Dance Chaillot in Paris, France (2022). At the same time, students of the Department of Contemporary Dance at IGD, have regular performances within the International festival "Dance Fest" and regularly perform on stage at the "Dom na ARM" in Skopje, where they have the space for studios.